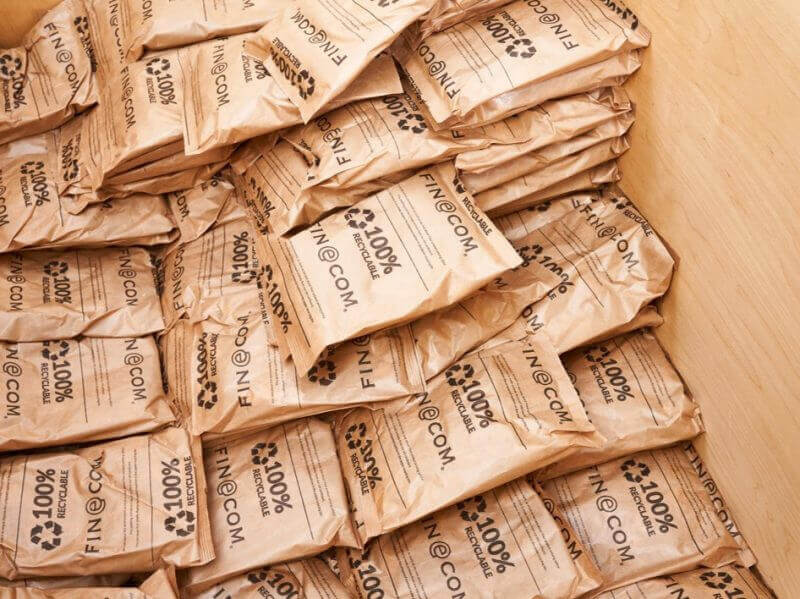 Sustainable Packaging
21.07.2020, Plattling, Gelsenkirchen, Aschaffenburg
Cooperation with karopack
Resource-saving packaging
Using waste paper as upholstery material
Not wasting valuable raw materials for filling material – this has long been a concern for FineCom. Recently, Alt FineCom-Finishing-eCommerce-Logistics GmbH together with the company karopack of Kreiter GmbH have taken another step towards sustainability.
As a service provider for eCommerce Fulfillment, FineCom cannot operate without packaging when shipping products. Nevertheless, the company attaches great importance to resource-conservation and avoiding unnecessary waste. After equipping its three locations in Plattling, Gelsenkirchen and Aschaffenburg with solar systems, FineCom has now tackled the issue of recycling.
"It's a great thing," explains FineCom managing director Franz S. Alt, "karopack collects our waste paper as well as old cardboard boxes and shreds them like a paper shredder. Then they are used to make tear-proof and dust-free upholstery cushions. These are delivered to us as high-quality filling and upholstery material." Upholstered cushions from returns are collected in the FineCom returns department – because the cushions are so robust they can be reused without issue. A further advantage for end customers is the uncomplicated disposal of the filling material. While filling materials such as polystyrene and other plastics lie loose in the box so that they have to be collected individually after unpacking, the shredded waste paper is practically in bags.
The paper bags can be easily disposed as waste paper as they are only minimally coated with PE. Karopack is currently developing a paper with the same optimal properties – without PE coating. The company is already in the test phase here. Paper is thus returned to the recycling cycle and does not end up in the sea like plastic and conventional polystyrene, which are very difficult to recycle. "We are glad to have karopack as a partner who supports us in a sustainable cycle in logistics and our value added services. This enables us to make our service even more innovative and to package our customers' products in an environmentally friendly and at the same time cost-efficient way," sums up Franz S. Alt.